I've found this in my "inbox" it's about RIP_RacinAce, thought to share it.
Deano's Ultra-Fast Honda
I'm scanning film from a WERA race at Roebling Road in March of 1986 and I came across some images of Dean on his Honda Superbike. One of the most vivid racing memories I have is watching in amazement Deano flying down Road Atlanta's back straight at what seemed impossible speed. I was afraid other riders would be blown off the track in his wake.
Dean and his Honda CB900F Superbike leads Thomas Stevens (I think) at Roebling Road. (Larry Lawrence photo)
I don't know who built Dean's Honda, but I do know that it was probably the fastest motorcycle in WERA racing of the mid-1980s (with the possible exception of Boonie Knott's Suzuki GP bike).
Most riders might be intimidated with such a beast of a bike, but Dean was a big, strong guy who literally imposed his will on the CBF. Dean would never be called a smooth rider, but he bulldogged this bike around the track, arms and legs thrashing around. He was fun to watch.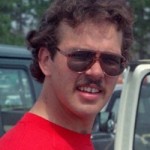 Deano (Larry Lawrence photo)
I think Dean won a WERA National title or two on this Honda. It was a trick, beautiful machine. In these days of cookie-cutter sport bikes, Dean's Honda reminds me of the time when Superbikes had personality. His Honda's attitude was bad-ass.
I wonder where the bike is today?